Cookies to Soothe Your Soul, and Tummy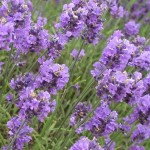 Lavender has always been favored for its lovely scent, but did you know it has wonderful cleaning properties too? Lavender Essential oil, added to water is a wonderful air freshener, and it is also antibacterial as well. Lavender is also wonderful when eaten. You can find it in spice shops, or online. Lavender can increase your iron intake, as well as adding Vitamin A, and Calcium. I have also found that Lavender is wonderful for soothing nausea associated with stomach viruses, or even the side effects of chemotherapy. Today I am sharing an old favorite recipe that I love to break out whenever someone is feeling a bit under the weather, or anxious. The lavender is not too overpowering in the cookie, and soothes an upset tummy quite nicely. They also help to calm some anxiety.  I used to make these cookies for a friend while she was going through chemo, and she reported back that it helped her greatly.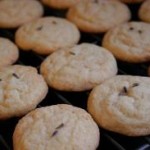 Lavender Cookies
1/2 cup shortening
1/2 cup butter, softened
1-1/4 cups sugar
2 eggs
1 teaspoon vanilla extract
1/2 teaspoon almond extract
2-1/4 cups all-purpose flour
4 teaspoons dried lavender flowers
1 teaspoon baking powder
1/2 teaspoon salt
Directions
In a large bowl, cream the shortening, butter and sugar until light and fluffy. Add eggs, one at a time, beating well after each addition. Beat in extracts. Combine the flour, lavender, baking powder and salt; gradually add to creamed mixture and mix well.
Drop by rounded teaspoonfuls 2 in. apart onto baking sheets lightly coated with cooking spray.
Bake at 375° for 8-10 minutes or until golden brown. Cool for 2 minutes before removing to wire racks. Store in an airtight container. Yield: about 7 dozen.