Keepin it Cool…and Keepin it Natural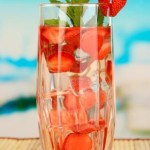 Summer is here in full force folks! In the hotter months, it is crucial that you make sure that you are drinking plenty of WATER! Hydration is a key factor in keeping your physical body in top function, and water is really the best hydration there is. I admit, on a blazing hot day, I used to enjoy the taste of a crisp sparkling soda pop just as much as the next person, however I know that soda does not hydrate the physical body effectively, and is overloaded with sugar and chemical preservatives, so I avoid it and choose water to help keep cool. For many, water is just plain….boring. Often times we want something that will taste yummy, and satisfy a craving or two in the process. For this, I encourage everybody to try infusing their waters with fruits, vegitables and even herbs to get that crisp taste we want, and all of the hydrating and cleansing benefits of fresh clear H2O. Here are a few recipes I have tried in the past couple weeks, and found them to be WINNERS! You can easily do any of these up in the evening before bed, and then you will have a lovely fresh and cool treat to cool off with the following day. I use an infuser pitcher, which I found on Amazon.com, but if you do not have an infuser pitcher, you can just pour the water into a regular pitcher, and strain any bits out as you drink it. Another fun thing to use is carbonated water when you are infusing. If you have a home carbonator such as a SodaStream, you are good to go, otherwise you can simply pick up some carbonated spring water at your local supermarket. Also, if you are a Reiki practitioner, charge that water up with some lovely healing Reiki while you are putting your water together for the added loving benefits of Reiki!
Pineapple Orange Passion
½ cup of chopped fresh pineapple
1 orange, washed seeded and sliced
2 quarts of filtered water, or spring water
Drop the fruit into the bottom of your pitcher or infuser pitcher, and top with the water then set in fridge to infuse overnight. Serve iced, and garnished with fruit if you choose.
Watermelon & Sage
1 cup of chopped and seeded watermelon
4 fresh sage leaves
2 quarts of filtered water, or spring water
Drop the melon into the bottom of your pitcher or infuser pitcher. Then lightly crunch the sage leaves in your palm and toss in on top of the melon. Top with the water then set in fridge to infuse overnight. Serve iced, and garnished with fruit or a sage leaf if you choose.
Good Ole Cucumber
1 Cucumber, washed and sliced
2 quarts of water
In this case, you simply toss in a cucumber and let it infuse all night. I personally am in love with using sparkling water with my cucumber. It makes such a refreshing treat.
Strawberry & Rosehip
1 cup fresh or frozen strawberries, sliced
¼ cup fresh or dried rosehips
2 quarts filtered or spring water
Toss your berries into the pitcher, then toss the rosehips on top. Add half of the water, and then give a little stir to mix the fruit up. This will help to release a lot of the nutrients from the rose hips. Then top off with the rest of your water, and let it infuse overnight. This is a lovely mix for when you have one of those summer colds coming on, because it has a light fresh taste, and loads of vitamin C to help your immune system
Black Water
¼ cup Blueberries
1 slice of fresh peeled beet root
¼ cup concord grapes
¼ cup blackberries
2 quarts of filtered or spring water
Toss all of your fruit and beet into the pitcher, then add about ¼ of the water. Stir the mix for a few stirs, to allow the some of the juices to release, then add the rest of the water and let it set overnight to infuse. This water will have a nice dark purplish hue to it. We call it Black Water here because my children nicknamed it that! It has a nice sweet taste, without all of the sugar and calories found in punches or soft drinks, and kids do seem to love it! Of course, I do not TELL them that there is a beet in the mix!
Tomato & Celery
2 large ripe tomatoes, washed and cut into quarters
2 large celery stalks, washed and cut into 1 inch pieces. Leave the leaves on the ends, they add so much flavor!
2 quarts of spring water, or filtered water
Toss the tomato chunks into your pitcher, then add the celery. Top with water, and let this infuse overnight. This mix is a good one to gulp down first thing in the morning because it has a nice hearty taste to it, and loads you up with the vitamin c from the tomatoes.
Obviously, the sky is the limit when you are looking at ways to dress up water. Try a few things out, mix and match and find some flavors that work for you. The most important thing is to STAY HYDRATED! Drinking plenty of water not only keeps you ALIVE in the hotter months, it also promotes healthy weight and circulation and beautiful clear skin. With all of those options out there to infuse your waters, there is no need for sugary soft drinks or chemical laden fruit cocktails!